ARCHIVED NEWS UP TO 2023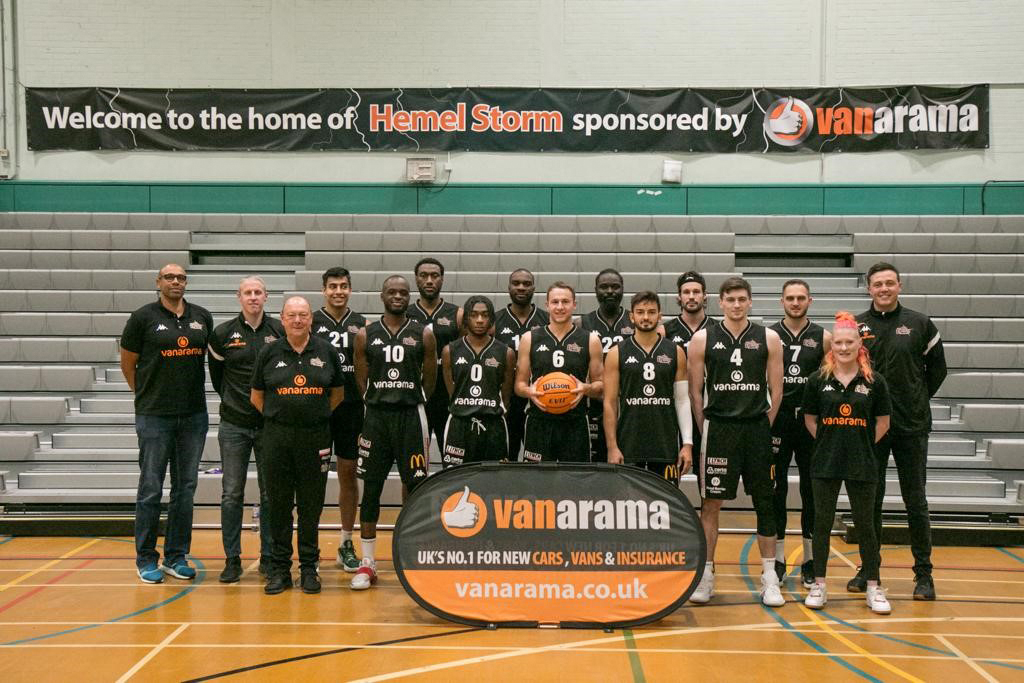 We are delighted to announce a new partnership with Hemel Storm Basketball, https://stormbasketball.net/ who bring the excitement and spectacle of top-class basketball to Hemel Hempstead.
Storm is a leading side in the Men's National Basketball League Division One and are supported home and away by some of the best and loudest fans in the country.
The 2022/23 season is underway, and already Storm have reached the National Trophy Final. There is further excitement and anticipation for additional success this season following the creation of a roster featuring some fan favourites as well as new faces that bring talent and experience to the Club.
We at MC wish them all the luck for the forthcoming season and are proud to have the opportunity to be part of their journey.
IMPORTANT INFORMATION
It is with regret that we have found it necessary to cease the 318 service with effect from Friday the 18th March 2022.
We have aging vehicles and as with many companies up and down the country we find that the investment required to conform to new and forthcoming Government legislative requirements is cost prohibitive given the dwindling revenue being taken.
Having run the service for a number of years, it is a very sad day for Mullanys Coaches.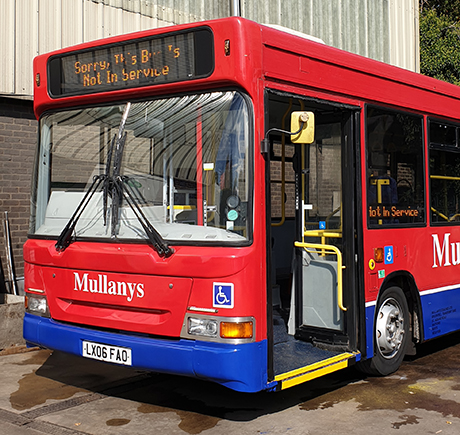 GREAT DAYS OUT, LATEST NEWS
The day trips currently on our web site are primarily those for which we have to make a very early booking commitment and therefore need an idea of interest and numbers. We are currently working on our full 2022 brochure for both day trips and holidays, which we hope to have with you sometime during February.
CLICK HERE for a copy of the latest news.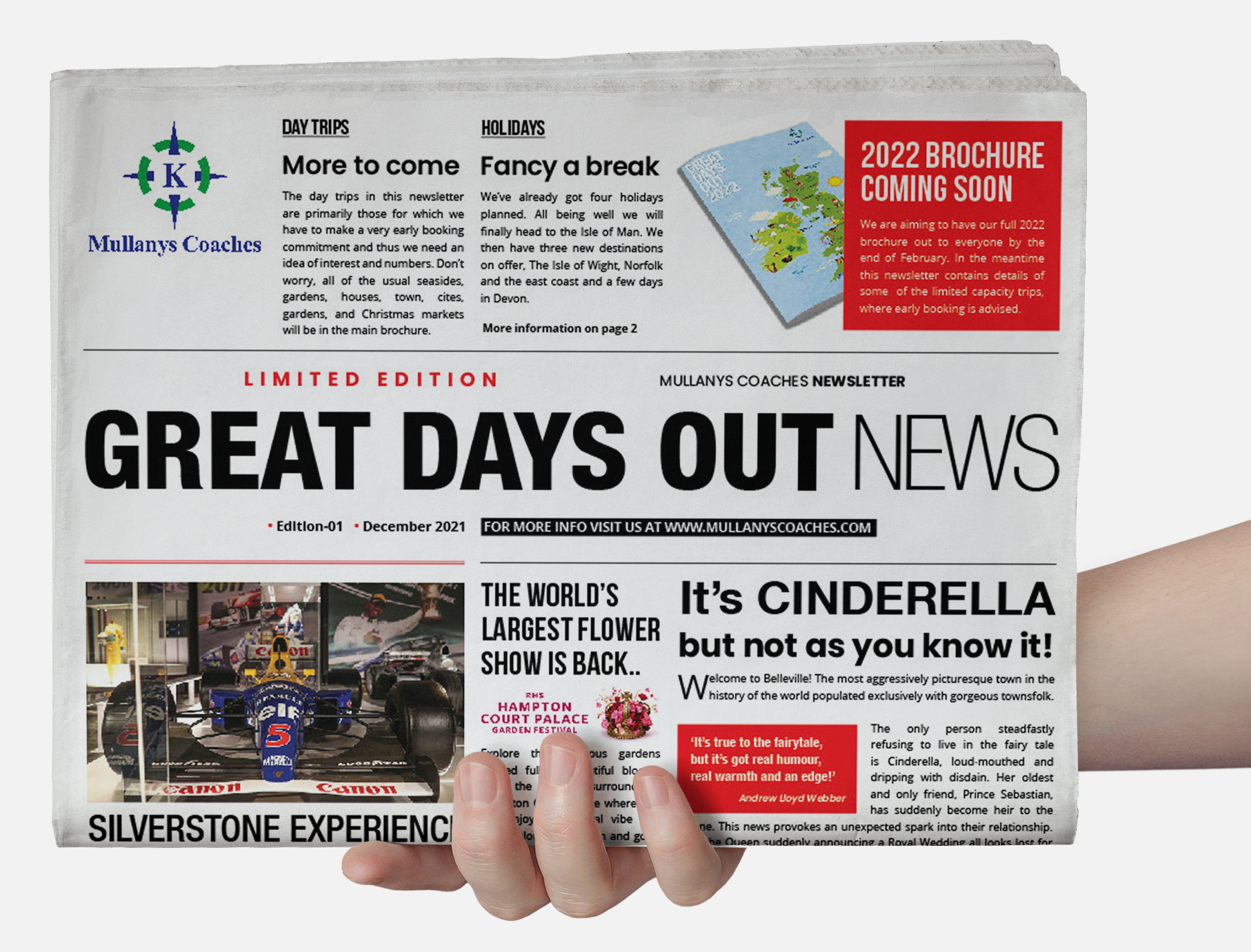 WATFORD FC is back, and so are we!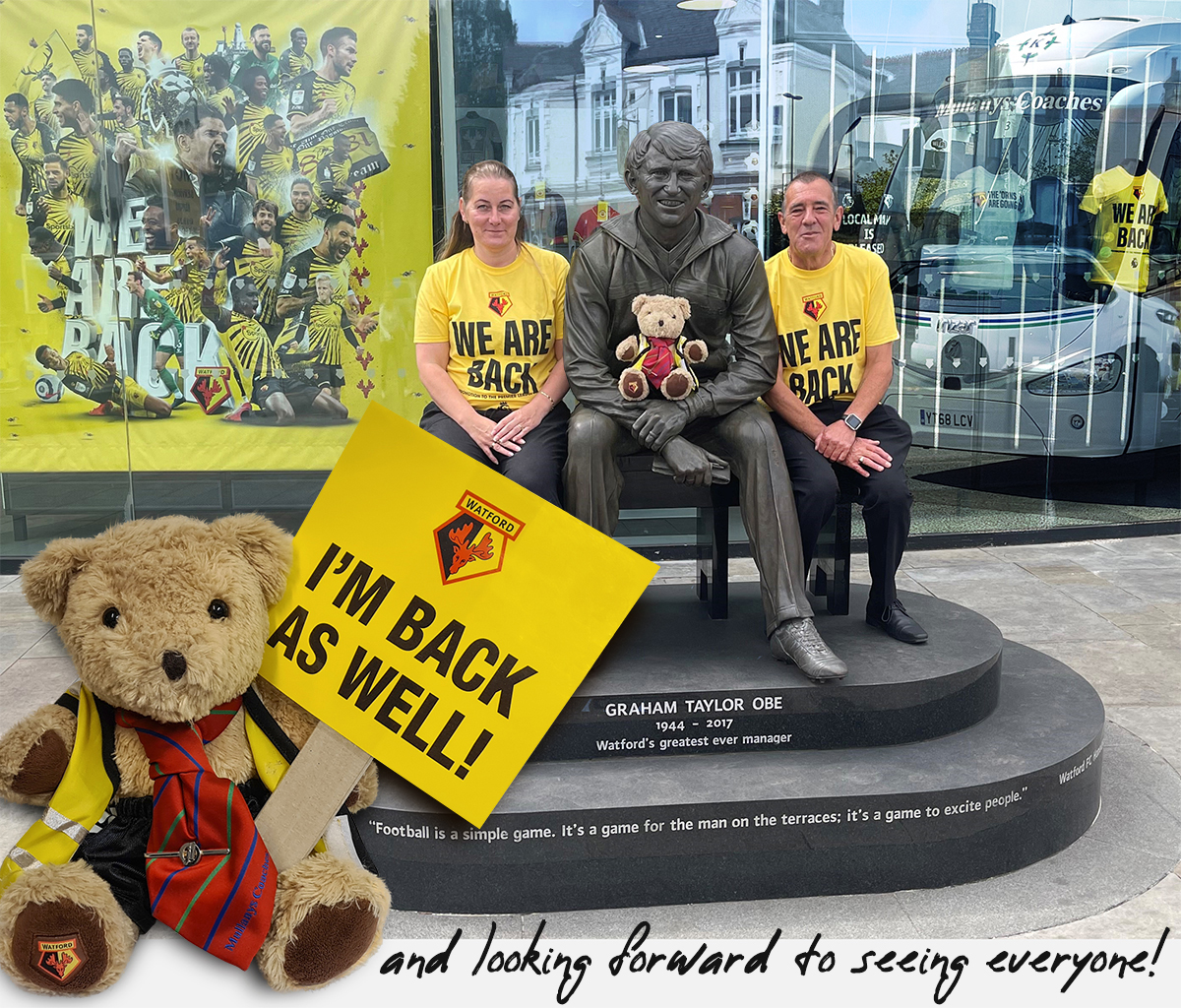 The Premiership Season is about to start and we are delighted to say 'Watford's back' and so are we! We look forward to seeing everyone on the first away game to Brighton on the 21st August.
WE'RE HEADING TO THE SEASIDE - WHY NOT JOIN US?
COVID-19, TRAVELLING ON A DAY TRIP
We know many people, particularly those who have been self-isolating, are concerned about heading out on a day trip.
At the current time our trips will run with less people on board and each trip will be different depending on the passengers to conform with social distancing. For example, passengers who are travelling with someone in their own 'bubble' do not have to socially distance and can therefore sit together.
We have a hand sanitiser as you enter the coach and you will have to wear a face covering, which can be a mask or any type of covering, which covers your nose and mouth.
We have a strict cleaning regime in place, which includes a full clean of all the 'touch' points on the vehicle and a disinfectant 'fogging' after each trip.
We are pleased to have been awarded the Visit Britain 'We're Good to Go' accreditation for England, Wales and Scotland. This accreditation recognises the fact that we are following government and industry COVID-19 guidelines to ensure our coaches and all aspects of our trips are safe for both our customers and employees.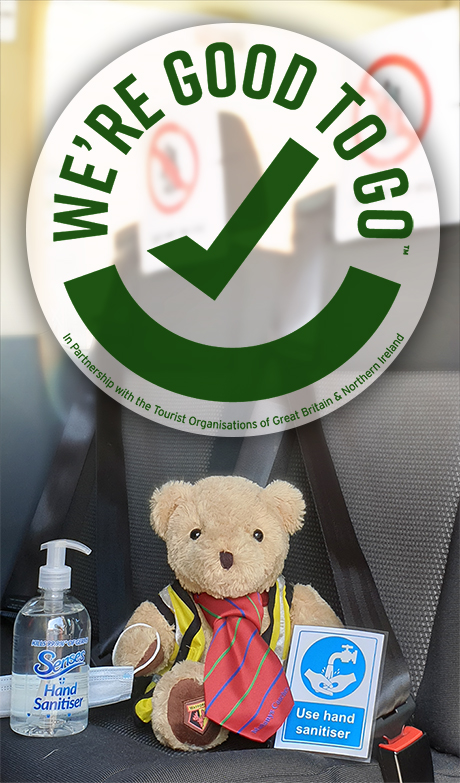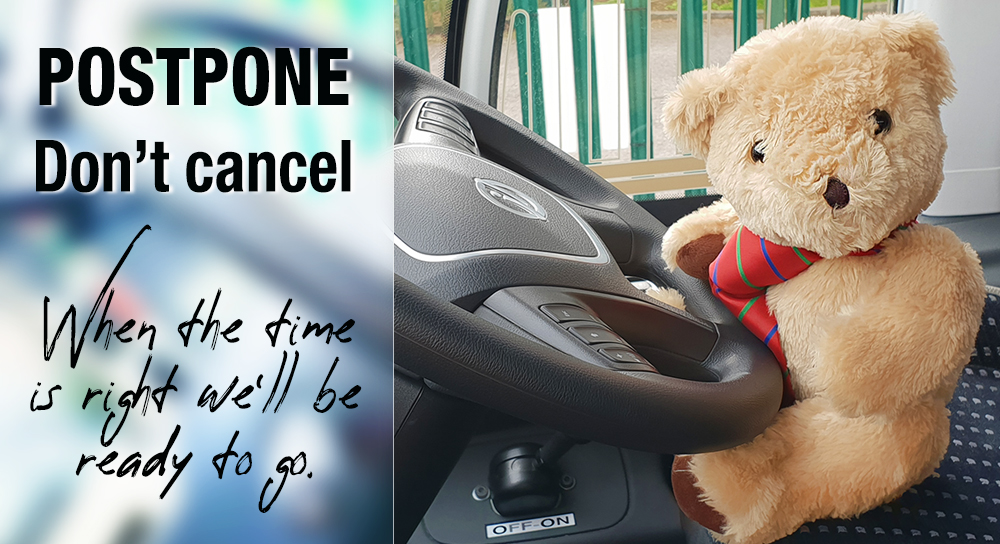 Regretfully, we are sorry to inform you that in view of recent UK Government announcement with regards to the Coronavirus outbreak, we are unable to operate our holidays and day excursions, up to and including at least 30th April 2020 as out top priority is the health and well-being of our customers and staff.
Given the current pandemic situation coupled with the advice on social distancing we find ourselves with no other option than to suspend the operation of the service as continuing to run places both our drivers and demographic, which is predominately the elderly, at risk.
We would like to take the opportunity to thank all our customers for their support and understanding, hope that the current situation proves to be short lived and that in the interim you and your families and friends stay healthy and virus free.
SUSPENSION of the 318 service
The situation that we find ourselves in as a country is unprecedented and we have given a serious amount of thought to the continued operation of the 318 service.
It is with regret that we have to advise that given the current pandemic situation coupled with the advice on social distancing we find ourselves with no other option than to suspend the operation of the service as continuing to run places both our drivers and demographic, which is predominately the elderly, at risk.
We would like to take the opportunity to thank all our customers for their support and understanding, hope that the current situation proves to be short lived and that in the interim you and your families and friends stay healthy and virus free.
CESSATION OF MOT SERVICES
Due to the COVID-19 pandemic DVSA has taken the decision to SUSPEND heavy vehicle testing of all Public Service Vehicles (PSV – Buses and coaches) and Heavy Goods Vehicles (HGV), trailers and for up to 3 months.
All PSVs, HGVs and trailers with an annual test due to expire will be issued with a 3-month certificate of exemption (CTE) until further notice Paper certificates will not be re-issued but DVSA will amend the digital record so that vehicles can continue to operate for 3 months from the current expiry date.
PLEASE REMEMBER: You'll still need to keep your HGVs, trailers and PSVs maintained in a roadworthy condition and operate within the terms of Operators' licence conditions. How vehicles will be prioritised once the pandemic is behind us is being looked at and we will let you have information in that respect as soon as it becomes available. In the interim we hope that all of our customers will stay healthy and virus free .
WATFORD 2019 AUDENTIOR AWARDS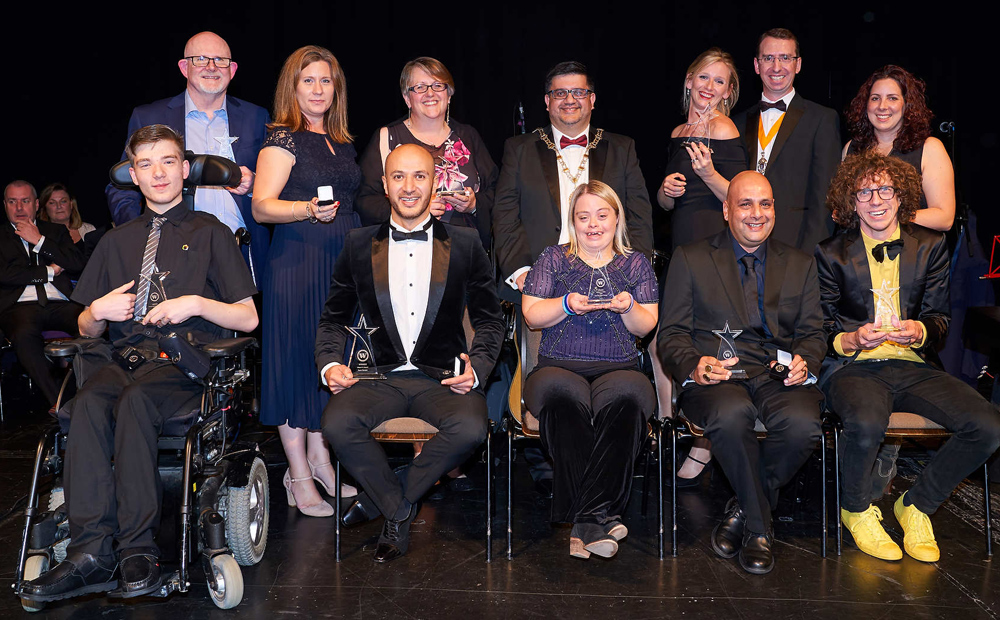 The Watford Borough Council Audentior Awards recognise and celebrate the commitment, hard work and achievements of local people and organisations who are actively making Watford a better place to live and work in. The one attribute that is required of all nominee sis that they should share the quality of being extraordinary in their commitment, dedication, energy and effort. 
We are proud to announce that our 318 bus driver Peter Gilbert (fromt row, second from right) was declared the winner of the 'Public Service' category.
CLICK HERE for more information on the awards and then
CLICK HERE to view a short film entitled 'Be Bold', which was prepared especially for the event.
With effect from 30th September, we will be extending our 318 service during the day to include Tescos at Waterfields Park.
The extension to the route also calls in at Century Retail Park, where ALDI is due to open a store on the old Toys R Us site in the not too distant future and passes the proposed site for the new LIDL store.
There are minor changes to the weekday commuter times,and minor fare changes so if you are a regular passenger, don't forget to check the timetable or ask the driver.
CLICK HERE  for a copy of the new timetable and the route.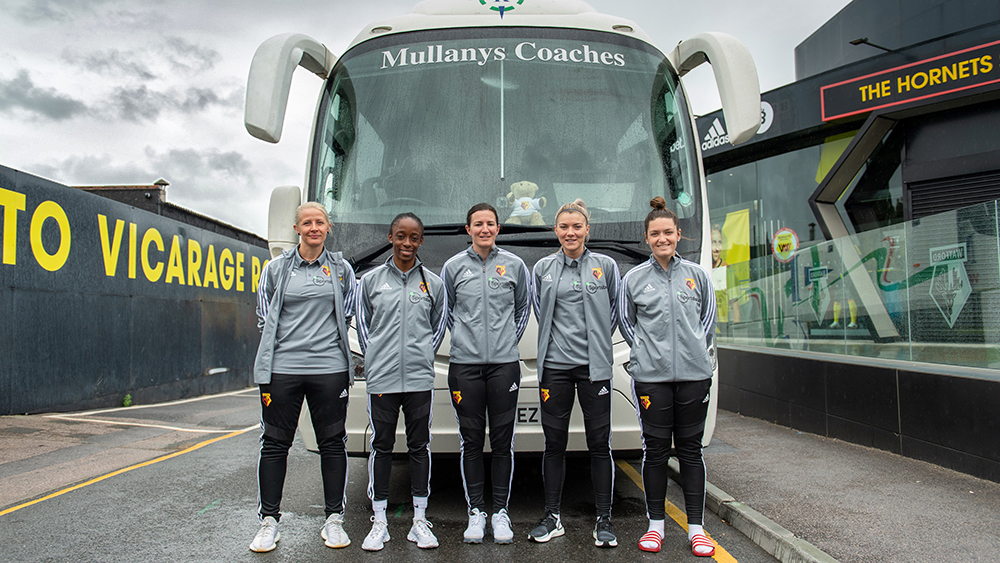 Mullanys Coaches is delighted to announce that it has signed to become the Official Travel Partner of the Watford FC Women's team.
General Manager of Watford FC Ladies, Grace Williams, highlighted how pleased the club are to be working with Mullanys, as the side continue their season in the FA Women's National League South.
"We are delighted to be working with Mullanys for next season," she said. "It's great to be able to partner up with not only a local business but a company that already has a connection with the club"
"I think it sends the right message that as a club we want to support local business' and work together to benefit both sides".
"Mullanys has been absolutely great with communication and our journeys so far. The girls' safety and comfort will always come first and Mullanys has been great at providing this."
WATFORD BOROUGH COUNCIL AUDENTIOR AWARDS
Every year Watford Borough Council holds its Audentior Awards, which recognise and celebrate the outstanding dedication and contribution made by organisations and individuals in the Borough.
We are both proud and delighted to be able to announce that following nomination by the public, one of our drivers, Peter Gilbert, has been shortlisted for the Public Service Award.
The Awards Ceremony will be held in October and we will all have our fingers crossed for him!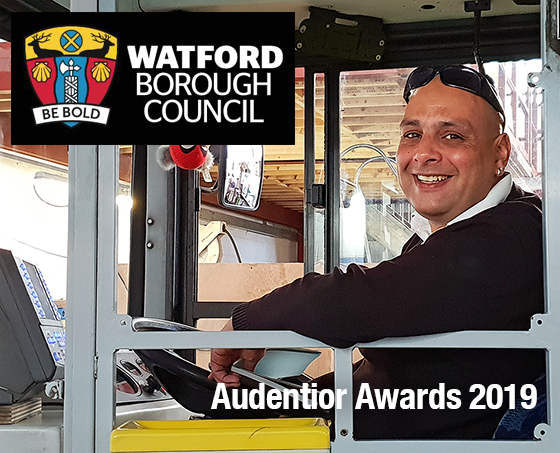 20th July to 1st September 2019
Under 18? or have a child who is?
For the summer holidays only we are offering 'KIDS FOR A QUID' on our 318 scheduled bus service.
So, there's no excuse to stay indoors!
We'll hopefully have more news coming soon.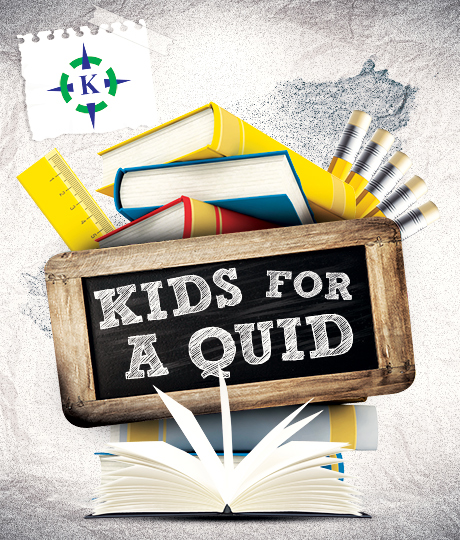 We've put together just few images of our journey over the last season for Watford FC. It's been both a privilege and a pleasure and we look forward to doing it all again next season!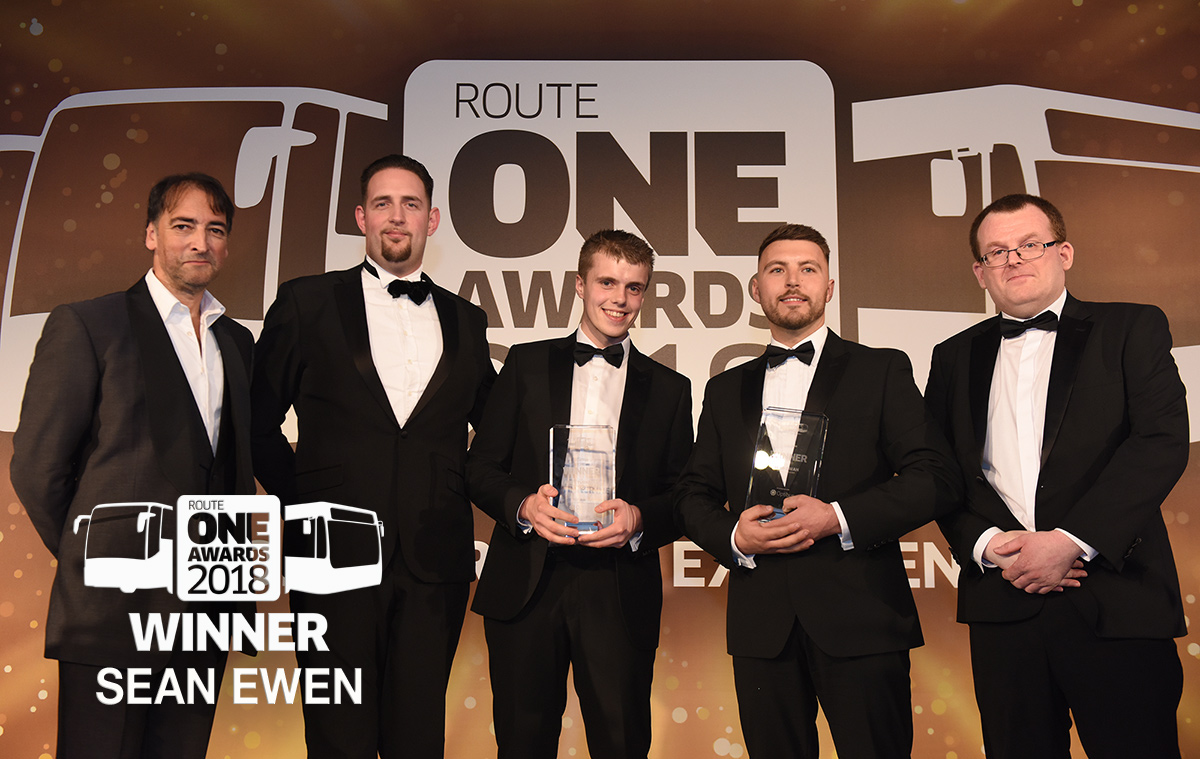 Success in the RouteOne Awards follows from a five-part entry process that starts with nominations by the industry. Our entry was then judged against strict criteria that puts an emphasis on excellence.
'Rising Star' was a new category for 2018 aimed at identifying a young (under 30) coach and bus industry professional who has not only impressed the judges with their progress to date but who is showing clear signs of having the potential to take on the highest jobs.
The judges were genuinely excited and inspired by the finalists and believe that each one is a credit to the industry.
When it came to sheer enthusiasm and evident commitment to a future in the industry it came down to two names that became impossible to separate, one representing the coaching and one representing the bus industry. We are pleased to announce that the one representing the coaching industry was our very own Sean Ewen.
The image shows a very proud Sean, second from the right.

Mullanys Coaches would like to extend a warm welcome to all of the Watford FC supporters travelling to Burnley with us this weekend.
We hope you have a good journey.
And of course, as a Watford company, most importantly as well as a good journey, we are also hoping for a win!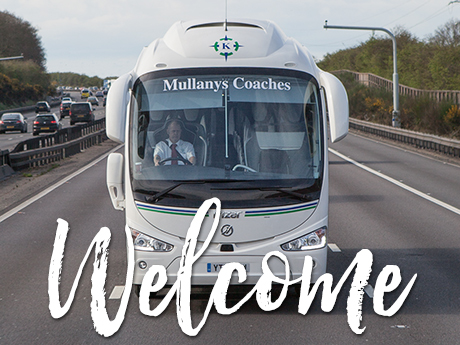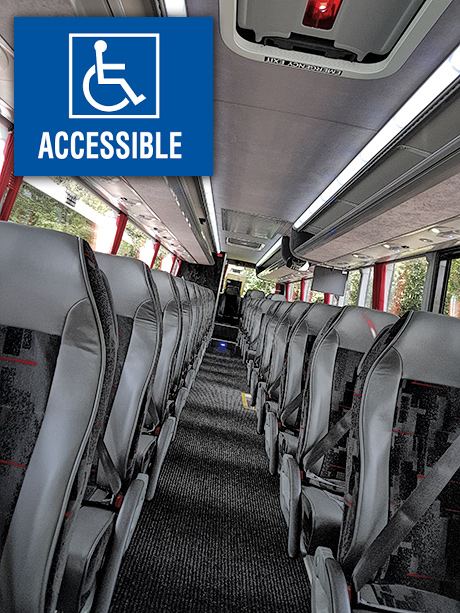 Currently in build and coming soon we have two 55 seat wheelchair accessible vehicles, capable of carrying up to four wheelchairs.
Fully equipped with a side entry lift, wheelchair users can be assured of a safe boarding of the vechicle.
Naturally the vehicles provide all of the other facilities you would expect with black and red moquette and grey leather interior to match some of our existing vehicles and other features such as CCTV, free wi-fi, reclining seats, air conditioning and for ease a rear toilet on the same level as the seating.
We look forward to welcoming you on board.
PROUD TO BE SUPPORTING OUR LOCAL TEAM

With over 50 years of providing bus and coaching services in Watford, we at Mullanys Coaches are proud to begin a new partnership with Watford Football Club, a club close to many of our employees' hearts.
We hope that this will be a long and successful partnership and we look forward to the team continuing to establish itself in the top tier of English football.
In the meantime, our friendly team of drivers are looking forward to welcoming their fellow supporters onto our coaches for the trip to Burnley in August.
SHORTLISTED, Engineer of the year
We are delighted to announce that our engineer Sean has been shortlisted as a potential finalist in the 2018 Route One Awards in the 'Engineer of the Year, small/medium operator (up to 150 vehicles).
All of us wish him the very best of luck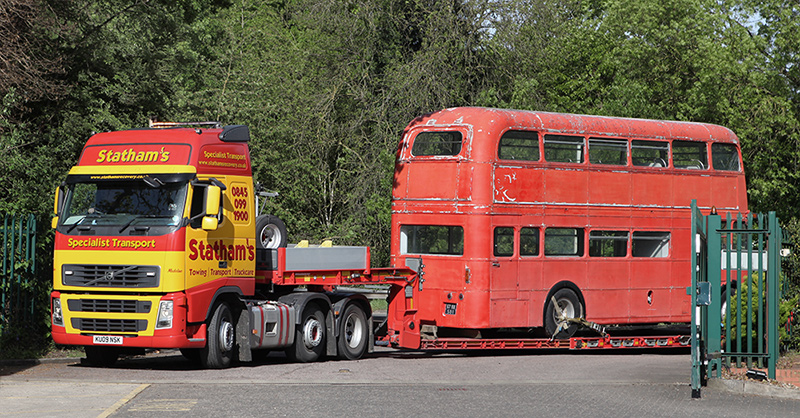 On a bright spring morning Routemaster RMA 22 arrives into the yard, with a little help from Stathams.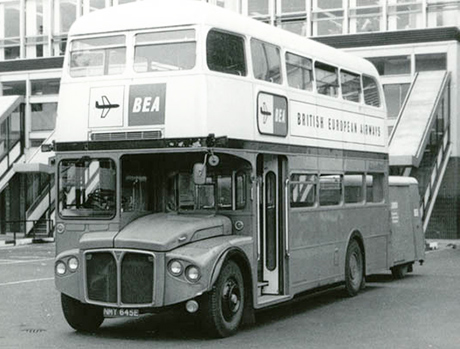 Currently sitting in the corner or a yard in Ireland, the 7th of May sees plans well under way to bring back RMA 22 to our yard in Watford where the long process of restoration will start. CLICK HERE for more information and keep an eye on our facebook page for all of the latest updates.
NEW LIVERY FOR WARNER BROS.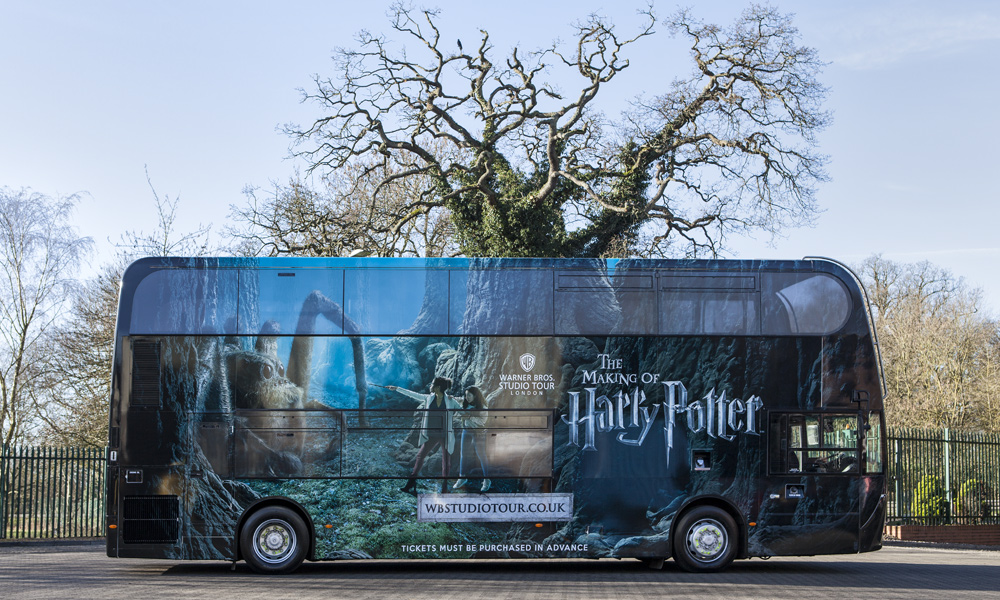 A big 'thank you' to the guys at PVL for completing the second of our Warner Bros vehicles. Looking good and a perfect fit with our tree has to be said!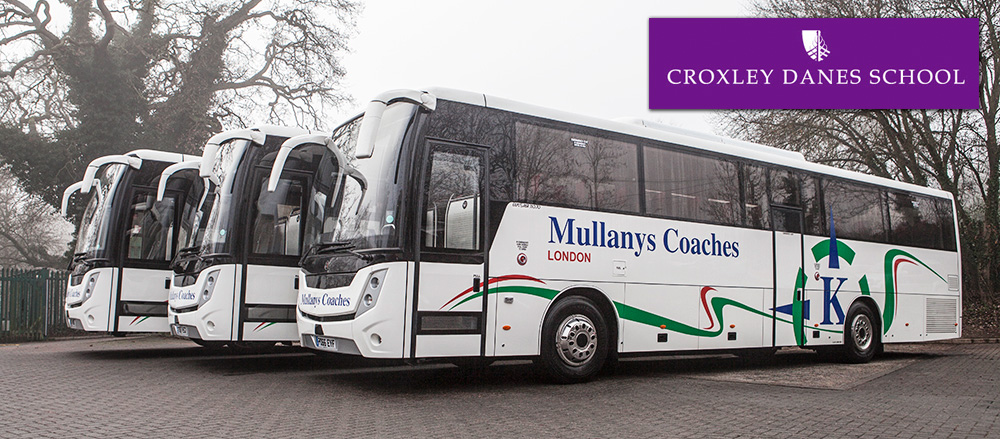 We are delighted to be able to announce that with effect from next September, we will be providing home to school transport for the new, all-ability, co-educational state secondary school, Croxley Danes.
CLICK HERE to read their own press release.
GETTING DRESSED and LOOKING GOOD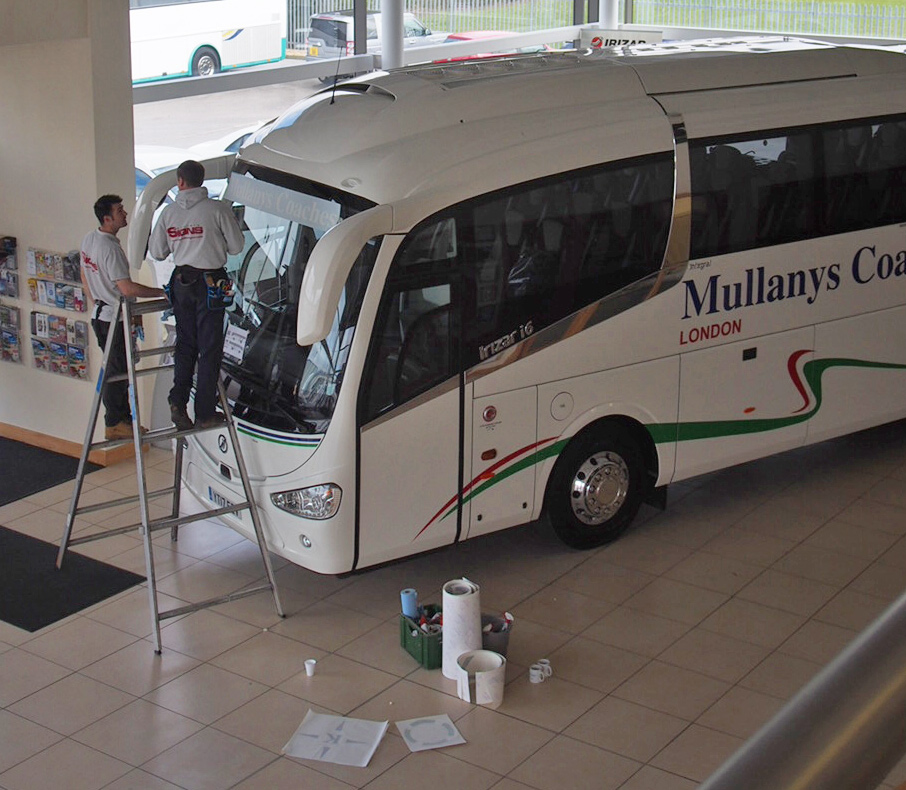 Justin (Saunders Signs) and assistant preparing (in the warm and dry for once) one of three sisters due to be collected later this week.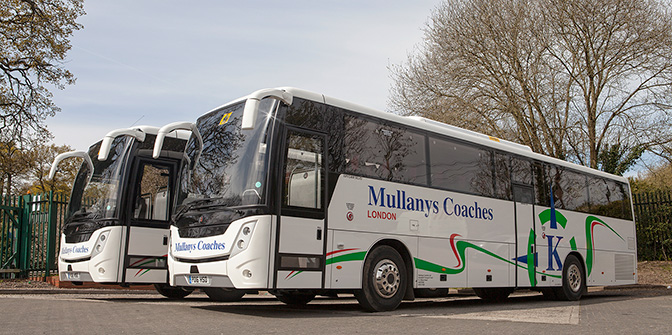 They have proved so popular that it's taken time for our livery guy to catch up with them but finally - our two new 70 seat coaches in full livery.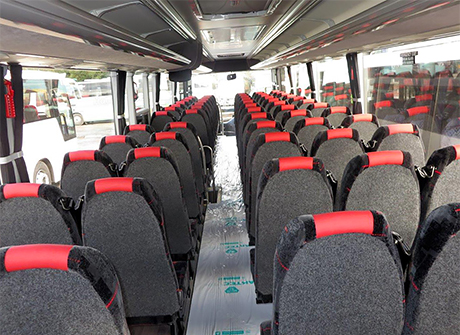 Fully air conditioned and sporting a smart and practical red, grey and black interior with grey wood flooring, two new 70 seat vehicles will join the fleet in March to meet an ever growing need for good quality school transport.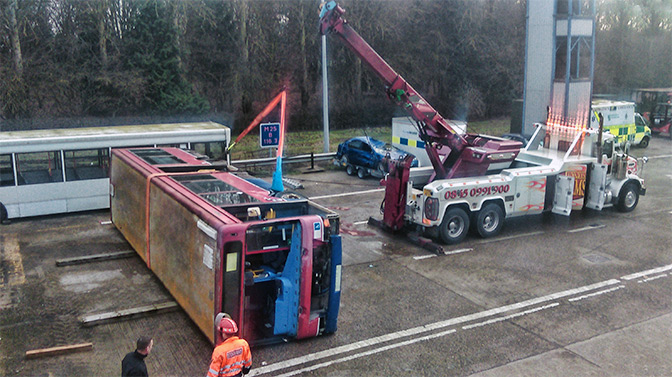 Hertfordshire Fire and Rescue has improved its heavy rescue training capabilities after taking delivery of two buses kindly donated to the Service by Mullanys Coaches Ltd.
With the introduction of the new Rescue Support Unit stationed at St Albans Fire Station Hertfordshire Fire and Rescue was keen to obtain some large goods vehicles to practice their Heavy Rescue skills.
Mullanys was able to donate two buses and with the assistance of Stathams Recovery these have been transported to the Hertfordshire Fire and Rescue Training Centre in Stevenage. Stathams Recovery also helped to set up an emergency scenario by putting one of the buses on its side.
Crew Commander Arnett said "it is very difficult to find heavy vehicles for us to train on. With this kind donation we will be able to practice our heavy rescue skills in a more realistic environment".
We are very grateful for the local support provided by the two companies who have been generous in the donation of the buses and the delivery and positioning of the vehicles at our training centre. The training opportunities this presents will be valuable and allow our operational crews to prepare for a variety of emergency situation.

Group Commander Smith, Head of training for Hertfordshire Fire and Rescue Service